Notes From Day 1 Minicamp
June 14th, 2016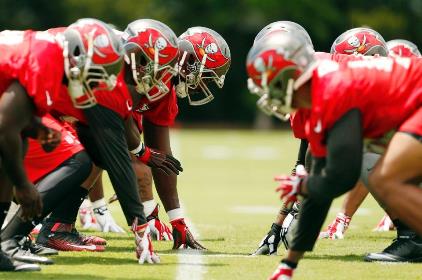 Your beloved Buccaneers were back on the practice fields of One Buc Palace today with the first mandatory minicamp session. Joe's got plenty of nuggets.
* Man, it's super hot and humid out here. Even during stretches, it's easy to tell this will be a tough afternoon. Thank your lucky stars the Bucs will hold training camp in the morning this year.
* Vincent Jackson and Louis Murphy, coming off of ACL surgery in November, are standing off to the side during drills performing floppy hat patrol. No reason to rush both back and risk any injury that could linger. It will be exciting to see Murphy back when he's healthy enough.
* Whoops! Kourtnei Brown bats a pass down from America's Quarterback, Jameis Winston, at the line of scrimmage. You'd like to see Jameis put more air under the ball when trying to drop a pass across the middle. Something to watch this fall.
* Jameis is handling the hurry-up offense well. Expect to see more of this during training camp. The more comfort he gains with the fast pace, the better. Dirk Koetter has to be encouraged.
* No sign of a cell phone with Austin Seferian-Jenkins as he works through drills. Dang, Joe hopes ASJ has learned his lesson after that Twitter fiasco last week. Seferian-Jenkins is standing off to the side, enjoying the water being poured on his head by a staff member as others grind away. Must be nice!
*Little bit of a training camp feel with this setup at One Buc. Fans mingle near the building, and reporters can walk behind a sideline on one of the practice fields. That big tent would feel good right about now, though.
* Jameis and Mike Evans have a solid connection all day. Jameis finds Evans near the sideline, and Evans makes a sliding catch. Keep that Stickum handy, Mike.
* Jameis is smiling and fist-bumping others after drills. He looks older than his second-year status.
* Punts! Adam Humphries, misplaced Calgary Stampeder Donteea Dye and the pride of St. Petersburg, Bernard Reedy, all get looks at punt returner. Bryan Anger seems to handle the punting duties well.
* Bucs go topless: To help with the oppressive heat, Koetter orders the Bucs to strip. So off go the helmets but practice continues. True underwear football. Looks weird seeing guys in an 11-on-11 drill without helmets.
* Selfie time! A Bucs staffer follows Jameis with a video camera mounted on a long selfie stick. The staffer stands behind Jameis as he breaks the huddle and approaches the line. Joe assumes this is done to give both coaches and Jameis the view of the defense from a quarterback's perspective during film work.
*Hello, Kwon Alexander! Nice breakup across the middle after he slides in front of a pass by Jameis intended for Russell Shepard. Alexander is pumped. Good to see the young guy fired up.
*Joe understands NFL coaches are tough guys. But yikes! It must be brutal for Koetter and defensive coordinator Mike Smith to be in long-sleeved T-shirts today. Just crazy. Hope they took IVs of Gatorade before coming out here.
* Reedy shows quality footwork on the right sideline after a catch. He dodges a few defenders and draws hollers from teammates.
* Jackson is lined up at cornerback against Evans as the Bucs walk through a few plays. Joe's wondering: Who would win in a jump ball between the two receivers? Riddle Joe that!
* More pressure! William Gholston bursts through the line and knocks down a pass after he chases Jameis out of the pocket. Gholston is impressive when his motor hums.
* Born to run: Jameis drops back for a pass and everyone is covered. So as the pocket begins to collapse, Jameis rolls left and runs upfield near the sideline (think Alex Smith scoring a late touchdown for the 49ers against New Orleans a few years ago in the playoffs).
* Who is Wanda?: What "Omaha" is to Peyton Manning, "Wanda" is to Jameis. Just who is this babe? Is she from Omaha? Does she like the Cornhuskers? Did she once have a tryst with former Nebraska offensive lineman and current Bucs AC/DC-loving general manager Jason Licht? Joe wants to know!
* Jameis isn't done with his mobility. He rolls left and absolutely fires a line drive to Adam Humphries, hitting him right in the numbers. Humphries turns outside but doesn't get far.
* Joe didn't see it but he sure heard it. There was a loud slap of flesh signaling a nasty collision (remember, no hitting in underwear football), and it appears Mike James got the raw end of the meeting as he was on the ground. Didn't appear that anyone was hurt.
*INTERCEPTION! Chris Conte picks off a pass from Jameis near the end zone off a tip. Joe didn't see who deflected the ball, but that's good hand-eye coordination from Conte to make the play. Get those takeaways! Simple as that.
*Last year's Underwear Football MVP Kenny Bell burns Johnthan Banks with a nice over-the-shoulder grab near the sideline. Moments like this make Bell intriguing to Joe. If he stays healthy, Bell could add needed depth at wide receiver. That hair already is Pro Bowl material!
* The Great Roberto Aguayo Watch! He went 6-for-8 on field goals, with both misses from more than 50 yards away going wide right (sorry FSU fans). Joe hopes Aguayo's kicking foot was rubbed with massage oil afterward.