Koetter: "Nobody's Very Patient Anymore"
June 22nd, 2016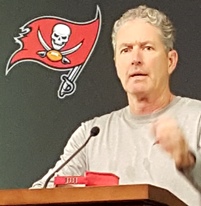 Dirk Koetter was back at it again doing what he does best: delivering real talk.
Speaking on Yahoo! Sports Radio, Koetter gave a three-pronged answer in response to a question about the declining focus on the running game in the NFL.
Running backs wear down.
It's a QB-driven league with quarterback making big bucks and fans paying to seem them.
(Joe will quote Koetter directly) "Nobody, fans, coaches, players, nobody's very patient anymore. I mean, it's hard to sit there and take four- or five-yard gains when we've got the quarterbacks and the receivers in this league that can go for the jugular a little quicker."
Interesting that Koetter left out a key — perhaps the key — NFL group that's most impatient of all: ownership. The typical shelf life of an NFL offensive coordinator hovers around two years. Head coaches are marching closer to that quick-hook rate, too.
As for running the football, Koetter's Bucs are still likely to keep pounding the rock, Joe believes. Using a slice of Koetter's logic, Doug Martin is getting paid handsomely, too, and he's not here for show. But Koetter also is talking this offseason about jacking up the tempo of the Bucs' offense and freeing America's Quarterback, Jameis Winston, to do more.
If the Bucs' key receivers and Jameis stay healthy, then it's a safe bet the Bucs will be a pass-heavy offense.