Koetter Embraces "Personality"
June 2nd, 2016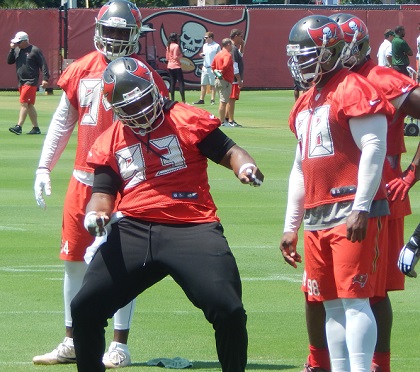 The funk music was playing early at Bucs practice today, and there was Gerald McCoy, spending significant time and effort on his throwback dance moves.
Joe's got a photo above, and various TV media types were talking about how McCoy's hips will be on the evening news.
Of course, Joe couldn't give a crap about men dancing in 90 degree weather. Thankfully, Dirk Koetter doesn't care either. After practice today, Koetter said he embraces "personality" and all that matters is wins. Koetter referenced the Bucs having five Pro Bowlers last year and adding Brent Grimes this offseason. They all have different personalities.
This is nothing new for Koetter, whose fifth-ranked offense last year also featured Vincent Jackson and Joe Hawley engaging in 30-second dance parties in practice. And Koetter's former players say he's always joking around.
Joe's glad Koetter embraces personality. While America's Quarterback, Jameis Winston, blossoms, surely more of his personality will emerge. Plus, Koetter needs to let players vent, as the pressure on the Koetter regime will be immense out of the gate.