Jameis Following Anquan Boldin's Guidance
June 22nd, 2016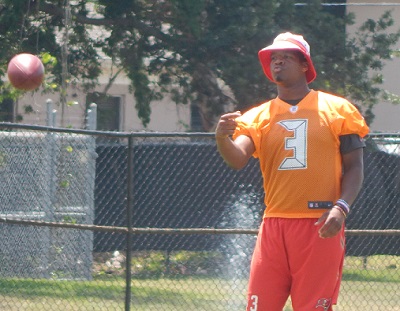 America's Quarterback, Jameis Winston, is a very busy man during his vacation. In fact, Jameis said yesterday he only is planning one week of true vacationing during his six weeks off.
The rest of the time he'll be volunteering at camps all over the United States, Jameis told WDAE-AM 620 at his youth camp in in Land O' Lakes yesterday.
Predictably, while on the radio, the subject of Jameis' extensive body makeover came up. And rocked up Jameis explained he's following the advice of veteran NFL receiver Anquan Boldin who shared wisdom with him at a Christian conference.
"Better to stay in shape than try and get in shape," Jameis said Boldin advised. "I took that and just ran with it."
Don't worry. Jameis isn't going too crazy. He admitted to mowing down pizza, fried chicken and biscuits on Monday, a result of getting off track after a long, busy day of coaching kids.