Dotson Fighting Is Nothing New
June 16th, 2016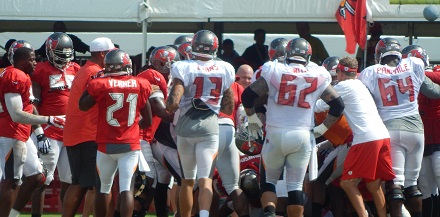 Yes, there was a fight at Buccaneers practice today, the final underwear football session before training camp kicks off in six weeks.
Joe was intrigued that Demar Dotson, the man in the middle of the first fight of training camp 2015, was a key combatant this afternoon. That can't be a coincidence.
Perhaps what's more interesting is Dirk Koetter saying he was bailing from today's skirmish to avoid injury. Last year, (see photo above) Koetter (white shirt and visor) darted into the fray looking for America's Quarterback, Jameis Winston.
Koetter was holding back Jameis to keep him safe.
Joe's extra jacked up for training camp now. Keep an eye on Dotson in the trenches when the Bucs are head-to-head versus the Jaguars on consecutive days in the heat.