Internal Affairs
June 12th, 2016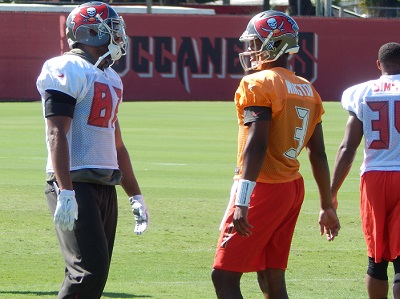 So who on the Buccaneers' roster firmly approached Austin Seferian-Jenkins last week and said, "What the hell are you doing? You represent all of us out in the community?"
Bucs icon Derrick Brooks often talked about how many team matters needed to be handled internally — in the locker room.
Yes, coaches and organizations address issues, such as Seferian-Jenkins responding to fans inappropriately on Twitter following him getting booted from practice on Thursday by Dirk Koetter. But who in that locker room was the first to talk to ASJ?
Who was the first to get in his face? Who are all the guys that felt compelled to confront ASJ and demand he stop embarrassing the team — their team, the team they expect to be a champion?
One thing in the back of Joe's head is ASJ's Twitter ridiculousness spanning hours. Did someone tell him — teammates or otherwise — to get off Twitter but ASJ kept going?
Joe thinks there's a silver lining in the ASJ mess. It represents a shot for America's Quarterback, Jameis Winston, to flex his leadership muscles and hell screw ASJ's head back on. Say what you want about the troubled tight end, the Bucs could his talent, if he can stay healthy and avoid penalties.