Brent Grimes Practice Video
June 1st, 2016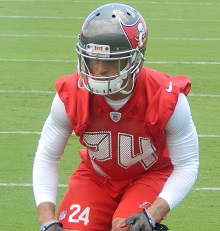 Ahh, it's June 1 and Bucs fans are yearning for football.
Thankfully, the mighty NFL allows Joe to show 90 seconds of exclusive practice video for up to 24 hours.
After that, it must come down and be removed from the Internet, per league rules.
Last week, Joe shared Johnthan Banks performing a defensive backs drill that prompted coaches to scream, "Banks, you've lost your mind!"
Today, Joe's got video below of four-time Pro Bowl cornerback Brent Grimes performing the same task with safety Bradley McDougald.
Grimes has all sorts of "short-space-quicks," as Ronde Barber sometimes calls it.