"A Fifth-Quarter" Story
June 7th, 2016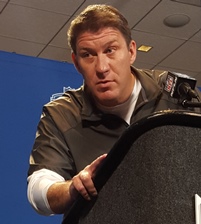 Guard Ali Marpet's Division-III-to-second-round-pick story made NFL history. But perhaps Marpet's deeper football roots are more stunning.
One would think an NFL player would possess a proud youth football history, assuming he played youth football. That's not the case for Marpet.
Speaking on Total Access on the Buccaneers Radio Network, Marpet explained that played tight end as a kid but never scored a touchdown and primarily was relegated to the postgame game — reserved for the kids who stink.
"I was a third-string tight end. So we had a fifth-quarter that was set out for the players who weren't as talented as the others," Marpet said. "So I was the fifth quarter kind of tight end. There's hope for the fifth-quarter guys."
Keep in mind Marpet grew up in suburban New York, which his hardly a football hotbed.
Joe this all pretty damn cool, especially considering Bucs general manager Jason Licht touts how deeply his personnel department researches draft picks. They dive into players' histories going back as far as elementary school. Despite the Division III status, despite playing tight end with the scrubs, Licht boldly traded up for Marpet.