"Your Name Have To Ring Bells"
May 11th, 2016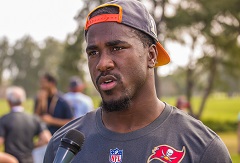 Does Lavonte David want to be a household name?
Damn right he does.
Joe talked to David yesterday as he joined with a handful of teammates and Team Glazer member Darcie Glazer Kassewitz at Bevis Elementary School in Lithia. The Bucs' contingent was out there to present the school with new physical education equipment and to dedicate a new Buccaneers Fitness Zone.
David is waiting to see if he lands on the NFL Network Top-100 Players of 2016 list, Nos. 81-90 are unveiled tonight. David was No. 56 last year, after debuting at No. 35 in 2014.
Yes, David cares about the player vote that determines the rankings. And his status matters to him.
"To be honored by your peers is a great deal, a great deal of respect. Man, all it does is just inspire me to keep getting better, keep getting my name out there in this game. There's a lot of great football players in this league," David said.

"To be a factor on and off the field, man, your name have to ring bells."
Set to bank $10 million this season, David sure rings bells at Bank of America.
It was great for David to get his fat contract last year and get to Hawaii for his first Pro Bowl. Remember, David had a sad start to the 2015 season and came on very strong.
Joe yearns to see how new defensive coordinator Mike Smith uses David. Joe suspects Smith will see a 26-year-old, do-it-all, ferocious linebacker and realize the power of his gift.