Will Jameis' Body Affect His Mind?
May 22nd, 2016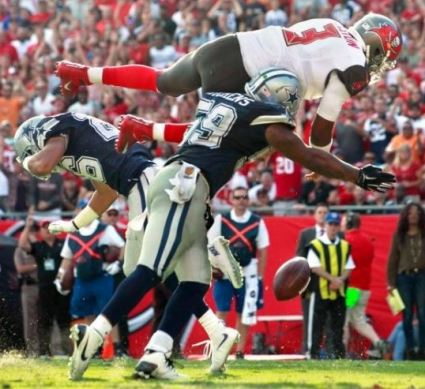 America's Quarterback, Jameis Winston, ran enough — and with a tenacious ferocity — to worry grinning Bucs coaches last year.
Hell, Jameis was even throwing lead blocks for running backs.
Coaches wanted Jameis to dial back his self-sacrifice, but they loved the results. Who could forget the historic 3rd-and-19 run? (video here)
This offseason, Jameis added muscle and ramped up his fitness. So it's logical to think that Jameis will feel more confident running and might do it more often.
Bucs quarterbacks coach Mike Bajakian talked to media last week at One Buc Palace, and Joe asked about how Jameis' new body might affect his gameday mindset.
JoeBucsFan.com: Do you think Jameis' improved fitness and strength is going to lead him to run more? How do you handle that possibility?

Quarterbacks coach Mike Bajakian: You know, I think he's always been, any quarterback, you want them to run as needed. So I don't think, we're not going to gameplan for him to run more. And I don't think it will factor much into his decision-making process.
Joe hopes Bajakian is correct, but Joe doubts it. Jameis the competitor is unlikely to let up. If he feels he must run and sacrifice his body, then he will. And being stronger probably spurs Jameis on to more risk, though he'd be better prepared for it physically.
Perhaps the Bucs' best chance of keeping Jameis safe is improving the offensive line, which is primed to take a step up with the unit returning (minus Logan Mankins) and Donovan Smith and Ali Marpet out of their rookie seasons.