"What? It's Not Happening?"
May 8th, 2016
Podcast: Play in new window | Download | Embed
Subscribe: RSS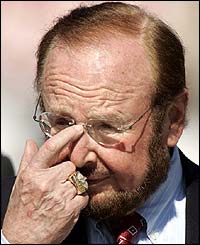 If you have even the slightest interest in Buccaneers' history, then you absolutely must grab a cold drink and listen to the ESPN Radio audio below.
It's former Bucs rockstar general manager Mark Dominik telling the story of Bill Parcells nearly becoming head coach of the Bucs before the 2002 season. Dominik takes you inside One Buc Palace and the actions of Keyshawn Johnson and Mike Tannenbaum, (yes, Mike Tannenbaum) leading up to Parcells' near arrival.
Dominik later explains Team Glazer's final run at Al Davis, the Raiders' late owner, "Nothing's not for sale. Something's always for sale. What's your price?"
Dominik also flashes back to rumors flying before Tony Dungy's hire in 1996. Dominik played a prank on then- general manager Rich McKay in order to figure out if Jimmy Johnson was truly in the hunt to be Bucs head coach. Based on the shenanigans, he sure was.
Click the arrow below to listen.
Damn, Malcolm Glazer sure knew how to make stuff happen.