Virtual Invisibility
May 20th, 2016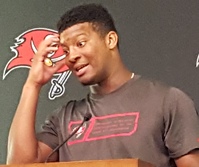 Last July, the Buccaneers' front office was buzzing about a new deal to bring virtual reality training to its quarterback stable led by America's Quarterback, Jameis Winston.
Now, it seems the team has tabled its use.
Joe asked quarterbacks coach Mike Bajakian yesterday about the use of the virtual reality training technology with Jameis. Bajakian sort of dodged the question and talked about live reps being the best teacher and the team seeking any way to enhance learning.
Joe followed up: Is the virtual reality something that's been implemented on any kind of regular basis?
"We're still working on it," Bajakian said.
Joe went digging and found out the Bucs are, indeed, still working on it.
It doesn't take a rocket scientist to figure out that whatever the Bucs hoped virtual reality would mean for Jameis didn't materialize as expected.