"Shape Of A Linebacker"
May 14th, 2016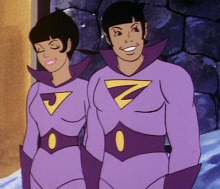 Joe confesses to being a very little dude obsessed with baseball, basketball, the NFL and the Wonder Twins' powers back in the late 1970s.
And yes, this ties to the 2016 Tampa Bay Buccaneers.
Those superhero twins had it down. They bashed their clenched fists together and could transform themselves and work together to save the day. Zan, the dude, he became any form of water. Jayna turned into any animal you could imagine. One would always shout, "form of a ___,"  while the other shouted, "shape of a ___" and then become whatever they called out.
Joe had this second-grade flashback at One Buc Palace on Thursday.
Joe asked new Bucs special teams chief Nate Kaczor what he liked on film of rookie fullback/tight end/"superback" Dan Vitale, Tampa Bay's sixth-round pick. Vitale was known as a college special teams monster.
Kaczor said he likes how Vitale uses his body to transform into a linebacker type in coverage.
"Right off the bat working with him, he's an intelligent football player and when you watch his tape – just like his offensive film – he's a very versatile player as a bigger body, almost a linebacker body type," Kaczor said. "He runs well, make plays – made a couple of plays in the Senior Bowl when you're comparing apples to apples so to speak and for me, on special teams, any time you get help on the special teams roster from the offensive side of the ball, whether it's a fullback, the second tight end, the fifth receiver, the third and fourth running back – and you get that in the shape of a linebacker body, that's really, really good. I'm happy to have him as a body-type and a smart football player that can move right now because you can't have too many linebacker body-types on special teams."
Vitale ran a 4.6-second, 40 yard dash this winter, but he is big enough for fullback, and athletic enough — with soft hands — in the passing game. It's why he was dubbed "superback" at Northwestern.
Now we learn more about how he'll bust heads and get in a defensive mentality on fourth down.
Jason Licht sure is drafting a new breed of Buccaneers. The majority of Licht's picks not only want to perform all the dirty work in the NFL. They ache for the chance.
Watch Mike Evans block one day. Study how Ali Marpet plays to the whistle and sometimes beyond. And who could forget what cornerback Vernon Hargreaves said about playing special teams?