Ronde Barber Says Bucs Were "Interested" In First-Round Offensive Tackles
May 23rd, 2016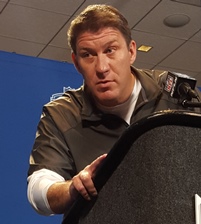 Last week, we learned Ronde Barber was given advance access to parts of the Buccaneers' draft board and he serves as a trusted analyst at One Buc Palace.
Now, Joe has more intrigue to add.
Barber was up at this year's NFL Draft in Chicago, where he was scheduled to announce Tampa Bay's third-round pick. However, the Bucs traded up to get Roberto Aguayo and did not draft in the third round.
While in Chicago, Barber chatted with Paul Ryan of WFLA-TV, Ch. 8, for a televised post-draft special. It was there that Barber shared more insight into the Bucs' first-round leanings.
"There were some guys that they really wanted in this draft and, as circumstances worked out, they had an opportunity to trade back and add some value to this draft and get a draft pick. And they did that," Barber said.

"If there were some guys that would have slid, I think it may have been a little different. I know they were interested in a couple of those offensive tackles. I'm not sure if that changed their decision or not. But Jason [Licht] and his staff had a plan. The few times that I've been over there in the offseason, I would say they're building this team on the other side of the ball now."
For those obsessed with the Bucs' real motives in the draft — not the angles fed to media — this is a juicy insider nugget to suck on this morning.
Also, Barber saying, "they're building this team on the other side of the ball now," is intriguing. Was he talking offense or defense?