Refreshing Honesty From Nerds
May 14th, 2016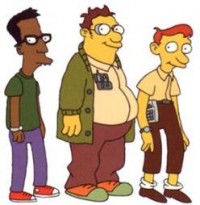 Regular readers know Joe is not much of a stats guy. Oh, stats can enlighten, but Joe is hardly a slave to stats.
Football, like most athletics, cannot be predicted by numbers alone. Numbers do not account for physical traits or techniques, or bodies not being 100 percent, or footwork or handwork or any physical technique. Stats account for neither hangovers nor for women being in an athlete's head. Statistics do not account for domestic issues.
Numbers provide insight,but despite what the purveyors of the Cult of Statistics push, they are not the final word. As Joe learned way back in high school, folks can (and will) twist stats to reinforce any narrative being peddled.
Joe tries to keep an open mind about the stat nerds, but when, for example, the PFF tribe gave Aaron Rodgers a below average grade for completing 24-of-35 passes for five touchdowns and no picks in a 38-28 win over Kansas City on Monday Night Football, well, anyone with a lick of common sense knows suggesting that's a bad game is shoveling a fresh pile of BS.
It was patently absurd.
But no! The PFF tribe pushed the notion Rodgers was below average. Then it went to hysterical defenses of their beloved grades on Twitter, further digging their grave. That is when Joe lost any and all faith in those clowns. If one's formula — or that putrid word "metric" — is flawed enough to call Rodgers' aforementioned game below average, then one's formula needs to be adjusted, not defended.
This is why Joe prefers the Football Outsiders crowd. Oh, they too are awash in statistics, but at least when common sense suggests their formulas may not be perfect, they man up and say so.
Take good guy Aaron Schatz. Typing a piece for BSPN, he projected 2016 data and he doesn't find the Bucs improving this fall, like his colleague Mike Clay earlier in the week.
But then Schatz used reason to wonder aloud if his formula might need tweaking in the case of the Bucs.
Our projections see Tampa Bay as declining a little bit on offense and improving a bit on defense, but there are subjective reasons to question both of those results. The system is expecting regression from the offense, but of course the quarterback situation is much different now than it was two years ago. On the other side of the ball, Tampa Bay projects to improve because it has brought in more defensive approximate value over replacement than any other team in the NFL. However, the system may be overestimating the value of these veterans. Daryl Smith will be 34 this year, Brent Grimes 33, and Robert Ayers 31.
You see, Joe respects this. Schatz ran his numbers and then questioned the validity of his projections. He doesn't parrot what the spreadsheet says and then blindly defends the numbers as Gospel.
Joe appreciates this breath of fresh air.