"Really, Bro?"
May 24th, 2016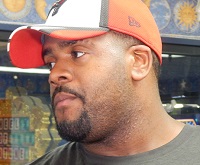 Joe really didn't mean to get under left tackle Donovan Smith's skin today.
Joe was just asking a simple question about Noah Spence, the rookie Bucs' defensive end who faced Smith in college.
Spence played for Ohio State against Smith's Penn State club. Spence and his team had great days. Joe has read some Penn State reporters even suggest that Spence put a whoopin' on Smith. Spence had two sacks in a 64-14 Buckeyes victory.
Today, Joe asked Smith what he recalls from his time facing Spence. Joe figured a scouting report on the Bucs rookie would be forthcoming. But Smith had a different response. "Really, Bro?" he replied.
Smith paused and politely went on to acknowledge Spence had a good game against him and Ohio State was the better team.
Joe already talked to Spence about his head-to-head battles with Smith in college. "I remember his arms were long as hell," Spence recalled.
Regardless, high-motor Spence and Smith should be one of the lively training camp battles, reminiscent of rookie Adrian Clayborn squaring off against Donald Penn in 2011.