"Look At How They Carry Themselves On The Field"
May 24th, 2016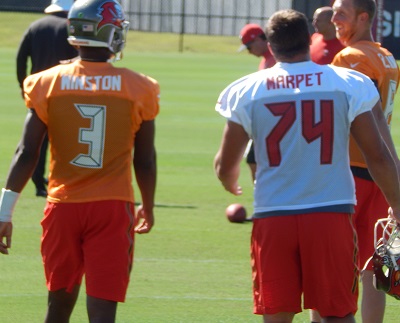 It's May. It's underwear football. So he does Dirk Koetter evaluate the progress of his giant stable of second-year players?
Koetter was asked after practice today specifically about right guard Ali Marpet and left tackle Donovan Smith, and measuring their growth this time of year.
But Koetter answered for all the 2015 rookies.
"Just their body language. Their confidence," Koetter said of Ali Marpet and Donovan Smith. "You know, Ali coming from a small school, everything was new to him. But all those rookies we played last year. You just look at how they carry themselves on the field. They know what to expect. They've been through real NFL battles. … Those guys are veterans now."
Common NFL analysis of development says players make the biggest leap from Year 1 to Year 2. If that holds true for Tampa Bay, then the Bucs are in for a standout offensive year.