Koetter Talks About What Makes Him "Happy"
May 27th, 2016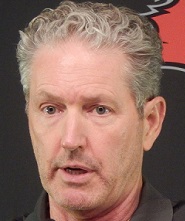 That explosive blowup by wide receivers coach/offensive coordinator Todd Monken yesterday? Man, it was fun.
Nothing like juice to a May practice.
After practice, Joe asked head coach Dirk Koetter if he was happy to see Monken getting all fired.
Koetter said he wants more of it — from all angles. "I'm happy when everybody is fired up. You know, I'm happy when every single guy is out there fired up. But when you're going against yourself all day, you got half the people are sad and half the people are happy. So it's great, you know, we got a good energy across the board."
To most easily define what Joe is noticing from the Buccaneers is how they appear to be taking on the personality of their new head coach and defensive coordinator: loose, energetic but extremely focused.
It's a refreshing combination.