Jason Licht Talks Draft "Intel"
May 5th, 2016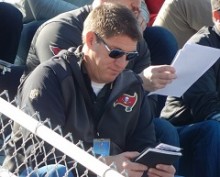 So you think who's not attending a pro day is meaningless? Think again.
Bucs general manager Jason Licht shared a few nuggets about draft-day intelligence today on the greatest morning show on the sports radio airwaves, PFT Live on NBC Sports Radio.
Tampa Bay wanted cornerback Vernon Hargreaves in the first round last week, but with him sitting there at No. 9 overall, when the Bucs were set to pick, Licht traded down to No. 11, swapping picks with Chicago. And then came the sweat-inducing moment, the Giants picking at No. 10 made Ohio State cornerback Eli Apple the first corner off the board in the NFL Draft.
Licht said previously he had intelligence on what the Giants would do. This morning, he elaborated to explain that includes studying team habits that includes pro day happenings and visits.
"Also, getting some intel on what we think other teams are going to take, just based on their history and what kind of players they like at different positions, and what pro days they attended and visitors they hand in, and all that stuff," Licht said. "So we put it all together, and the intel that we came up with was that we didn't think they were going take him. But you also have to always have a little luck involved."
This is especially interesting considering every last team and loads of scouts attended the Ohio State pro day, obviously, given the loaded Buckeyes roster.
But were the Bucs there watching to see if the Giants talked to Apple? Did they have a staffer focused on just that alone, how the Giants interacted with Apple?
Fascinating stuff. Licht sure likes to gamble.