"I'd Just Kick It Across The Room"
May 4th, 2016
Doug Mar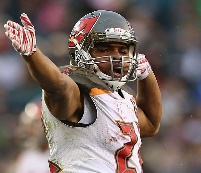 tin runs angry, but does he have deeper anger issues?
Perhaps.
Joe just found the NESN video below, an interview of Doug Martin at the Super Bowl.
Martin reveals how much the "Muscle Hamster" nickname upsets him. "I don't think hamsters are intimidating. They're soft," he said.
Asked what he'd do if he actually encountered a muscular hamster, Martin said, "I'd just kick it across the room."
Hopefully, PETA will bring its naked vegan women to the streets of Dale Mabry Highway to protest this potential atrocity.