"I Love Those Eagles"
May 25th, 2016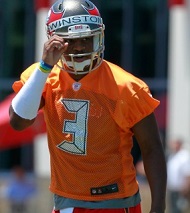 Only one man in the Buccaneers' locker room can get away with saying he loves the Philadelphia Eagles.
If Warren Sapp were dead, he'd be rolling over right now.
Yes, America's Quarterback, Jameis Winston, proclaimed his love for the Eagles yesterday. In fact, Jameis wasn't even asked about the Eagles.
Joe asked Jameis yesterday for his reaction when he first saw the Bucs' 2016 schedule. The Bucs' franchise quarterback unleashed his passion for the Bucs' glory days rival.
"Man, I know y'all going to think I'm crazy, but when I first seen the schedule, I just seen the Eagles and I just got instantly just excited about that because that's my favorite team," Jameis said.

"So, we're definitely going to take one game at a time. You know, there's no reason to look ahead at things. This is the beginning of OTAs. But I'm definitely excited to play against those Eagles. You know, I'm sorry. Fly Eagles Fly. But, hey, I love those Eagles."
The Bucs open the preseason in Philly in just 78 short days. It's safe to say Jameis is counting the hours.
Jameis' Eagles fandom is nothing new. He explained last year, prior to throwing touchdowns to five different receivers in a November win at Lincoln Financial Field, that his father exposed him to film of Randall Cunningham with the Eagles, and that led to Jameis becoming a Philly fan.
Joe must give Jameis a thumbs-up for his honesty. He's been billed a true football junkie, so it's no surprise that 22-year-old Jameis has strong emotions for his childhood team. It's so refreshing to hear a player admit it.