"High Priced" Question Mark
May 28th, 2016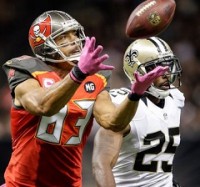 Two prominent Tampa Bay media voices chatted about the future of Vincent Jackson on national radio yesterday.
Of course, Joe was listening, and it was very refreshing.
On SiriusXM NFL Radio, co-host Booger McFarland, a glory days defensive tackle for Tampa Bay, and Rick Stroud, the longtime Bucs beat writer for the Tampa Bay Times, openly questioned how much gas is left in the Bucs' $10 million receiver, Vincent Jackson.
"Boy, he is a high-priced veteran receiver for the production they're hoping to get but really don't know," said Booger, who called the status quo on Jackson and the receiving corps an offseason surprise.

"Booger, it was an area I thought they would address in the draft and they didn't," Stroud said.

"He doesn't have the explosion he once did. And if you look at this receiving corps just as a whole, they don't have a lot of explosive guys. I mean, it takes Mike Evans a few steps. And he will run by you, but he's a strider. He's not a, you know, an in-space guy."
Stroud went on to say the Bucs' regime believes in Jackson and considers his two knee injuries last year (eight lost games) to be unlucky hits versus age catching up to him. Jackson turned 33 in January.
"The receiving position is not deep. And I think they're going to have to rely on their tight ends more," Stroud said. "I don't know how much Vincent has left."
Joe's been pounding the same drum since January. Receiver is a legitimate need on this roster. The dice rolls that Mike Evans can catch consistently and Father Time will stay away from V-Jax are huge. Louis Murphy is coming off ACL surgery in November. Kenny Bell has no preseason or regular-season catches. Adam Humphries is a great No. 5 receiver but nothing more. Donteea Dye is CFL material. Russell Shepard is a special teams player.
Joe's got fingers and toes crossed.