"Everybody Knows That We Need One"
May 30th, 2016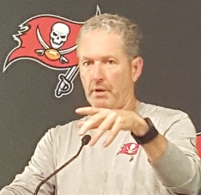 Joe will never tire of the candid ways of Buccaneers head coach Dirk Koetter.
If Lovie Smith were still in charge, about now he'd be lauding five-sack rookie Howard Jones and the bright futures of T.J. Fatinikun and sackless George Johnson.
Koetter? He doesn't peddle in lollipops, sunflowers and lemon pastries. After last month's draft, WFLA-TV, Channel 8 sports chief Dan Lucas asked Koetter about the selection of defensive end Noah Spence.
In talking about the move for a pass rusher, Koetter said, "Everybody knows that we need one."
How refreshing is that kind of straight talk.
Maybe Will Gholston and Jacquies Smith can develop from solid NFL players into something more, but the reality is undeniable. The Bucs need a pass rusher, the kind offensive coordinators fear.
As for another thing the Bucs need, depth at wide receiver, Koetter won't yet take his real-talk style to that department. Perhaps Koetter really believes he has gold in the questionable crew that follows Mike Evans and Vincent Jackson.