Does Jameis Have Trouble Handling Success?
May 16th, 2016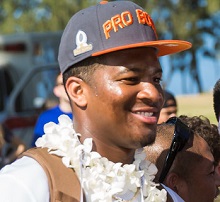 On Mondays, Joe rises early and tunes in to PFT Live on NBC Sports Radio, before eventually kicking on NFL Network in the background. By 7 a.m., Joe is fully immersed in football.
Today, on the league's mouthpiece station, Joe already heard a troubling take.
Former Redskins and Texans general manager Charley Casserly told the nation that America's Quarterback, Jameis Winston, had trouble handling success in college. And he said it's unknown after one season whether Jameis can handle succeeding in the NFL.
Was this take unfair?
Yes, Jameis couldn't duplicate his undefeated run with Florida State in 2013. He lost one game in 2014, and his play fell off a notch. Last year, Jameis marched the Bucs to a 6-6 record and then his game dropped off. In his final four starts, Jameis tossed five touchdowns and had four interceptions, and his completion rate was 57.6 percent.
Still, Joe think Casserly is being unfair. Jameis was a fantastic and super college quarterback. The fact he couldn't duplicate an historic, Heisman Trophy and national championship season achieved as a 19-year-old is understandable.
As for last season, yes, Jameis failed the challenge of December football after a two-month stretch of strong play. But Joe can't go there with a straight face. Jameis was a rookie, and the offense was dragged down by injuries leading to playing time for third-rate receivers. Average-at-best threats from the tight end position didn't help, either.
Joe would ask Casserly to see how Jameis responded to the "success" of playing in his first Pro Bowl. It inspired Jameis to dramatically improve his body and fitness.
Joe has no concerns with Jameis' ability to handle success.