"He Doesn't Want Any Arrogant Guys"
May 25th, 2016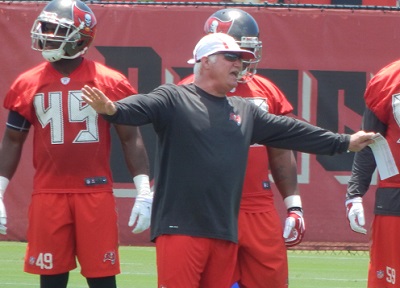 Last week, Ronde Barber called Bucs defensive coordinator Mike Smith the "nicest guy in the history of professional football."
So Joe figured it would be a good idea to ask Gerald McCoy, a true Mr. Nice Guy, what he thinks of that statement and Smith.
"Coach Smith, man, he's just a passionate coach," McCoy said yesterday. "He is just about winning. That's all he cares about, but he's big on guys being great teammates.

"He doesn't want any arrogant guys, he doesn't want guys thinking they're above the system, and he doesn't care who the leader is. He says leaders will emerge, but he cares more about guys being great teammates and them supporting each other. 'If you see a person doesn't know, go help him. Don't be afraid to communicate and realize that we are a family here, so regardless of what happens, we have to stick together.' But as far as him as a person, he's a great guy. Great guy. You know, he's raised his voice probably one – I think the first time I've heard him raise his voice was today. But he's just about winning and that's really great to see."
Yes, Smith is only about winning, whereas the last Bucs defensive playcaller, aka Coach My Scheme, was all about winning only if it included adhering to his system.
It's a subtle difference that should represent a huge positive change.