Licht Likes His "Rarity" Find
May 29th, 2016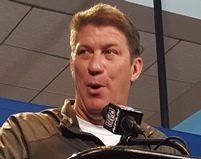 For those unaware, Bucs general manager Jason Licht played offensive line for Nebraska.
So Licht was an interesting pairing with Lovie Smith, who couldn't build a solid O-line in Chicago. Licht once even joked at a Bucs press conference that Lovie didn't sit up at attention when reviewing film on prospective O-linemen.
As a result, Licht had a very heavy hand in revamping the Bucs' O-line into a top-tier unit in the NFL. The Donald Penn-Anthony Collins disaster aside, the Bucs have done a hell of a job drafting and selecting offensive linemen, a task NFL personnel executives say is increasingly difficult because college spread offenses are making it hard to evaluate their skills.
Also, recent NFL labor laws heavily restrict contact-permissible practices. And it's tough to develop linemen without hitting.
Chatting with Dan Lucas of WFLA-TV, Channel 8, after this year's draft, Licht talked about what a rare find 21-year-old fifth-round pick Caleb Benenoch was out of UCLA.
"To be able to be able to play tackle and guard, that's something that's kind of hard to find now. We find the center/guards, but the guys that can play tackle and guard are a little bit tougher to find," Licht said. "He's an underclassmen but yet he's started 35 games, which is also a rarity. He's a tough guy. He's athletic, and he's young. He still has tremendous upside. … He can sit back and we can develop him."
Offensive line coach George Warhop did a heck of a job last year preparing rookies Donovan Smith and Ali Marpet, who was a left tackle for Division-III Hobart but transitioned immediately to right guard.
Benenoch won't have that pressure, just like 2014 fifth-round pick Kevin Pamphile got time to learn the ropes. If Benenoch proves to be a solid NFL player, then look for NFL teams to start studying why the Bucs are nailing their O-line choices.