Buccaneers Will Have Joint Practices With Jacksonville And Cleveland
May 26th, 2016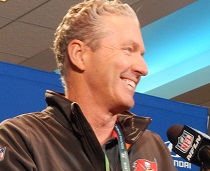 Head coach Dirk Koetter wasn't blowing hot air when he said in March that he liked joint training camp practices with fellow NFL teams.
Today, Joe asked Koetter whether his plans for the summer would include practicing against the Jaguars, prior to the teams' Week 2 preseason game in Jacksonville on Aug. 20.
Koetter upped the ante.
He confirmed the Bucs will practice against/with the Jags in Jacksonville and then will return the following week to practice against/with the Cleveland Browns.
Koetter said the Bucs will go up to Jacksonville for two days and then have the day before the preseason game off. The Browns, per Koetter, will have a similar schedule before playing the Bucs in Tampa on Monday night, Aug. 29.
Somewhere, Lovie Smith, who was dead set against joint practices, is shaking his head.