Buccaneers OTA Practice Notes & Observations
May 26th, 2016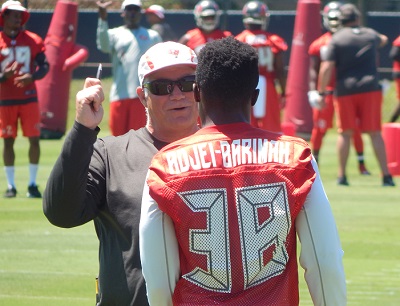 Joe's got all kinds of underwear football nuggets for you Bucs junkies. 
*Not a cloud in the sky over One Buc Palace. Drills start after stretching.
*Floppy hat duty for recovering hogs Ali Marpet and J.R. Sweezy. Rookie fourth-round pick Ryan Smith also sporting a floppy hat.
*Drop! Rookie free agent running back Russell Hansbrough.
*Man, Charles Sims is wicked silky smooth catching the football. He stands out big time among the running backs and, today, the receivers.
*Doug Martin hauls in a laser from America's Quarterback, Jameis Winston.
*Mike James somehow grabs a ball way behind him without halting his forward progress.
*Bucs shift to 11-on-11 work. Media is asked to turn off video and photos. Incomplete! Jameis to Mike Evans.
*Doug Martin runs right.
*Adam Humphries jumps in as a third receiver — in the slot. Evans and Vincent Jackson out wide. Complete to V-Jax for 10 yards.
*Charles Sims run. It's underwear football. No pads or hitting. Touchdown for all!
*Your second-team wide receivers: Kenny Bell, Evan Spencer and Donteea Dye, Jr. Mike James in the backfield.
*Mike Glennon to Spencer. Complete!
*James runs left.
*Glennon incomplete to Dye. A come-back route in the right flat. Dye slipped.
*A visit to the offensive lineman work area reveals Gosder Cherilus wearing long floppy sleeves and hitting a sled in the broiling sun. Man, it's too hot for sleeves for a big man. Center Joe Hawley sure does dance a lot when he's not working.
*Back to drills, and Keith Tandy falls in change-of-direction work. Major Wright struggles with the same affliction. "Stay on your toes!" yells coach Brett Maxie.
*Jameis and Cameron Brate are out of sync in a drill – rarity. Rookie Danny Vitale juggles the next pass and catches it out of bounds. Brate stayed on the field after practice for a lot of extra work, though not with Jameis.
*Defensive coordinator Mike Smith spends a lot of 1-on-1 time with cornerback Jude Adjei-Barimah.
*Drop! Adam Humphries. Athletic grab by wide receiver Andre Davis.
*QB-WR drill is halted by Todd Monken, the new wide receivers/offensive coordinator. You can read all about his freakout here.
*Lots of runs during an 11-on-11 session.
*Drop/tipped! Vincent Jackson with Chris Conte snagging the interception. Jackson likely makes a greater effort on the ball if it's a real game. Jameis throw was a little behind him.
*Great catch in 7-on-7 work in traffic by Humphries.
*Johnthan Banks recovers from an embarrassing drill session (video here). Banks slaps ball away from Russell Shepard after a catch.
*Safety hopeful Elijah Shumate intercepts a juggle-job by Humphries. Might have been a tipped ball. More traffic underneath from Mike Smith's defense.
*Drop! Spencer from No. 3 QB Ryan Griffin.
*Doug Martin stiff-arms Adjei-Barimah after the whistle and after a short pass. Martin was practicing damn hard today. He was taking that ball to the end zone no matter what.
*Great touch pass from Jameis to V-Jax in zone coverage over Alterraun Verner. Sweet touch on the 20-yard throw to the sidelines.
*Lots of tempo in Koetter's 7-on-7. Seems greater than last year.
*Martin heartily celebrates success of the second unit. Runs over and does a jumping chest bump with Mike James.
*Bucs Super Bowl kicker Martin Gramática is at practice with his two young kids. They're both wearing Jameis jerseys. During a one-minute break. Jameis is seen throwing balls with a Gramática kid. Pretty cool gesture by Jameis.
*Complete! Jameis to Evans, 15 yards with Brent Grimes trailing. Man, Evans dwarfs Grimes in a big way.
*Jameis with a high throw incomplete to Kenny Bell streaking acrooss the middle. Very tight impressive coverage from Verner.