Vegas Eyeing Fourth-Best Bucs
April 4th, 2016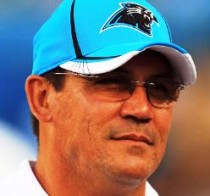 Why are the brilliant oddsmaker brains of Las Vegas down on the Buccaneers?
Yes, Joe is interested. The Vegas dudes are the original data guys, who combine reality into their endless analytics.
Across the Vegas sports books, the Bucs are largely pegged for an over-under win total of 6 1/2 games in 2016. Especially interesting is that the Falcons and Saints are pegged for seven or 7 1/2 wins.
Joe had a long discussion about this with a hardcore Bucs fan yesterday over too many beers. Joe maintains Vegas is sour on the Bucs for a few reasons: Tampa Bay is seen as having the worst coach and the worst quarterback in the NFC South, and their defense is an unknown.
Joe's adjective choice of  "worst" may be harsh, but that's a reality for most observers. Joe hears the knocks on Drew Brees, but the guy led the NFL in passing yards last year while completing 68.3 percent of his passes, the second best rate in the league. What more do people want from the guy?
Dirk Koetter has much to prove when compared to Ron Rivera and Sean Payton, and Dan Quinn was 8-8 last year.
After five consecutive last place finishes, clearing the cellar absolutely is the Bucs' biggest hurdle. They just won't get (deserve?) any respect until they can.