True Roster Value
April 7th, 2016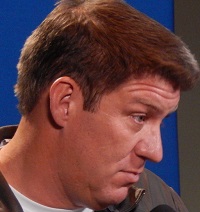 Joe is so sick of arguing with the "best available" crowd, which peddles in a world that doesn't exist.
These folks don't realize that "value" in the NFL Draft only exists as it applies to a team's own roster.
Do the Bucs have any business drafting a running back in the first four rounds this year? Absolutely not. Tampa Bay has Doug Martin and Charles Sims, and Joe believes Mike James is a quality talent. Also, plenty of good backs can be had late in the draft.
What about quarterback? Should the Bucs snag a QB if a good one falls to them in the second round? Of course not.
Should Tampa Bay bag a premium left tackle prospect at No. 9 overall this month, like so many alleged experts are considering? That would be downright stupid. Pure dumb.
Teams absolutely must consider the "value" of a pick based their current talent at the player's position. Drafting is about finding the greatest upgrade and building a winning team, not just looking at a spreadsheet and picking the highest number on a "big board" when your team is called.
This was a popular topic on SiriusXM NFL Radio this week, with various former NFL executives weighing in.
Look at how the Bucs won the draft with a grand slam last year. They attacked need areas and played "best available" in the fourth round.
This is one reason why Joe is stuck on the Bucs upgrading at defensive end, cornerback and wide receiver. Their needs there — and projected need in 2017 — are glaring.