Titans, Rams And Bucs
April 15th, 2016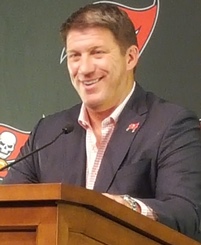 No, that headline is not some sarcastic Three Stooges reference. But the three teams, the Titans, Rams and Bucs, all played last year at times as if Moe, Larry and Curly were on the field.
In case you were under a rock yesterday, the Rams acquired the top pick in the draft from the Titans, who now pick behind the Bucs. Logic suggests the Rams will draft a quarterback at No. 1 (but Joe maintains that with Jeff Fisher running the show, he is such a defensive knothead he just may draft Jalen Ramsey).
At No. 2, if the Browns had any sense (debatable). they too would draft a quarterback or trade out to a team that does need a quarterback.
So simple math says the Bucs selecting at No. 9, should get one of the seven-best non-quarterbacks in the draft, and likely get no worse than the No. 2 defensive end or cornerback in the draft.
So the trade, on paper, seems a great deal for the Bucs. Bucs AC/DC-loving general manager Jason Licht this so, too. Well, sort of, so he explained in his pre-draft presser yesterday.
"Yeah it could [benefit the Bucs], but it's all ifs, ands and buts still at this point," Licht said. "The draft never works out exactly – you could do a hundred mocks and it never works out the exact way you put it down, that you guess.

"You have to wait until the draft flows and that's kind of like a play caller. You know, you have your script during a game and Dirk [Koetter] has things that he wants to do. Sometimes it doesn't work out that way and you have to revise your plan a little bit and kind of shoot from the hip, for the lack of a better term. Every draft is different."
On paper, Joe cannot envision a scenario where two corners and two defensive ends will be selected by the time the Bucs are on the clock.
Could Joey Bosa really slip to the Bucs?
Or does Licht go really bold and trade up for Jalen Ramsey?