Stat Geeks Just Won't Let Go
April 5th, 2016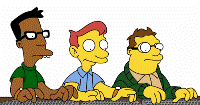 Boy, oh boy, the numberscrunchers sure a stubborn lot. Once they get it in their heads that a guy is bad, they just won't let go.
Take the case of Donovan Smith, Bucs starting left tackle. A rookie last year, he did just fine, especially when one looks at the defensive ends he tangled with. Talk to senior Bucs officials and smiles break out on their faces.
Hell, Joe, at Super Bowl media day and the NFL Scouting Combine, talked to all sorts of NFL suits, coaches, scouts and analysts. Joe couldn't find one that thought Smith was a poor left tackle.
But the calculator crowd? If you didn't know any better, you'd think he corrupted their Excel software. Something about offensive linemen has football people and numberscrunchers seeing totally different things.
Pardon Joe for siding with the football folks.
You want to know how to sniff out a numberscruncher? They're anyone who claims Smith should be moved to right tackle (not happening, folks) or says the Bucs could spend the No. 9 pick on a tackle. Not one general manager drafts a right tackle at No. 9 and stays employed for long.
So, that brings Joe to one of the best football sites out there, RealFootballNetwork.com, run by Pat Kirwan of CBS Sports and SiriusXM NFL Radio fame.
John Pollard, an analystics guy for the site, is convinced the Bucs could be targeting offensive line in the first round.
Remember how Joe looks at the third-best player at positions the Bucs may draft? That's because at No. 9, it is likely the best two players at a position will be gone. Pollard said the same things. He looked at three players who he believes are the second- or third-best players at their positions, offensive tackle Ronnie Stanley of Notre Dame, defensvie end Shaq Lawson of Clemson and Hargreaves.
It is interesting to listen to how Pollard breaks down offensive linemen in a numberscruncher way of thinking.