"Need" Is Debatable At Cornerback
April 15th, 2016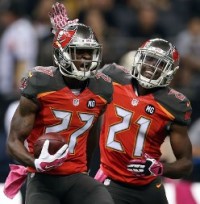 Yesterday, Jason Licht eloquently stated he "strives to pick players where best available and need intersect."
And there lies the X-factor in handicapping the Buccaneers' plans for the 2016 draft.
Endless mock drafts and draft gurus are focused on the Bucs drafting Florida Gators cornerback Vernon Hargreaves in the first round. But what is the Bucs' need at the position?
And before the Best Available Mob starts crowing, it's Licht talking about the importance of need here, not Joe.
Brent Grimes is a perennial Pro Bowler getting paid big bucks. Alterraun Verner is a 27-year-old former Pro Bowler. Johnthan Banks is a 26-year-old who may never have gotten a fair shake under the Lovie Smith regime following a strong rookie year and a good 2014 season. Tampa Bay will play $2 million this season to 25-year-old, four-year veteran corner Josh Robinson less than a week into free agency.
It appears Licht still believes in Banks and Verner. Just the fact Verner (a guy Licht signed in free agency in 2014) is still around with a big salary is evidence. And Banks is, at worst, a good football player. It's not his fault Lovie preferred two unemployed old cornerbacks, Tim Jennings and Mike Jenkins.
So where exactly is the "need" at cornerback that would demand the Bucs invest the No. 9 overall pick.
But look at defensive end and the "need" there. No Pro Bowlers or ex-Pro Bowlers man the DE rotation. There are no highly drafted players except for newly signed Robert Ayers. He was a raging bust as the No. 18 overall pick of Denver in 2009. Ayers revived his career the past few years and became a one-year wonder with nine sacks for the Giants last year.
Will Gholston is an emerging talent that has yet to prove he can rush the passer. Undrafted Jacquies Smith has produced far beyond expectations, but he's not quite an every-down player. Howard Jones came out of Division II with five sacks last year, but he is a big question mark. Sackless George Johnson is still around.
The "need" at defensive is glaring, far more glaring than at corner.
Yes, the 2016 draft is said to be deep at defensive end. So there is the chess game for Licht. Can he draft a defensive back in the first round and still bank on getting a talented pass rusher? That's a dicey gamble given the Bucs' stable at DE, and the evaporating prime of Gerald McCoy.