Local Push For The Pro Bowl
April 20th, 2016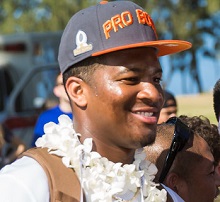 The NFL's greatest stars, minus the ones in the Super Bowl and those who shun exhibition games, might be coming to Orlando in January.
Per George Diaz of the Orlando Sentinel, a huge push is on for the Citrus Bowl to take over Pro Bowl hosting duties for the next three seasons. You can read all about it here.
The Pro Bowl is nearly meaningless (unless you're America's Quarterback soaking up wisdom and inspiration). But it would be pretty darn cool for local Bucs fans to be able to hop in a car and attend easily.
Joe will say this about the Citrus Bowl. It's $200 million upgrade a couple of years ago turned it into a stunning facility, complete with giant video boards. It's a huge reason why expansion Orlando City set Major League Soccer attendance records last year, and drew 60,000+ for its opening day last month.