"Kind Of Healed My Heart A Little Bit"
April 11th, 2016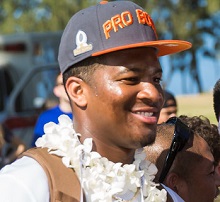 The Pro Bowl was more than just an exhibition and a chance to hang with Miko and Brent Grimes in Hawaii for America's Quarterback, Jameis Winston.
Speaking today at One Buc Palace, Jameis told dazzling Britt McHenry of ESPN that the Pro Bowl experience, specifically his Pro Bowl team winning, "really kind of healed my heart a little bit" after losing the Bucs' season finale at Carolina.
Jameis explained the Carolina game was one he wanted desperately. Bucs fans will remember how Lovie Smith emphasized that game was a statement/start to the Bucs' 2016 season.
(Jameis did a video walk and talk with McHenry now posted on the ESPN.com home page without a direct link.)
Yes, too many Bucs fans laughed off Jameis' Pro Bowl experience as meaningless. But even Dirk Koetter referenced it again today, mentioning how much Jameis learned from Russell Wilson, Julio Jones and Eli Manning.