It's Safety To Start For Fourth-Rounder Smith
April 30th, 2016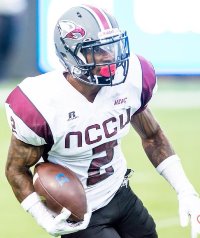 Perhaps Joe was too hasty putting Alterraun Verner on cut watch earlier today.
After today's NFL Draft for the Bucs concluded in the sixth round, both general manager Jason Licht and Dirk Koetter fielded questions from Joe and assembled media.
Licht and Koetter each said fourth-round pick Ryan Smith, a cornerback out of North Carolina Central, will be a safety for the Bucs, at least to start his career.
Licht noted Smith played some corner in college and the Bucs peg him at that position, though Licht said Smith's versatility is important.
Sleep well, or at least better, Alterruan.