Immense Pressure On Dirk Koetter
April 8th, 2016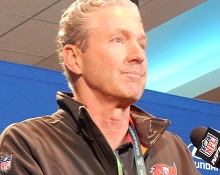 Joe communicates with loads of Bucs fans, and there's a trend developing.
Many fans don't grasp the immense pressure on first-time head coach Dirk Koetter. He must improve the Bucs immediately. Simple as that.
Many speculated Lovie Smith had three years to right the Bucs' ship. He only got two. How long does Koetter get?
God help Koetter if he wins six games and comes in last place next season. He'd be on an instant hot seat. Joe can't even ponder what might happen if the Bucs regress and win just five.
Team Glazer tolerates losing about as well as Joe would handle the third row at a One Direction concert. And good for Team Glazer. Time doesn't fix bad coaching.
Joe is very optimistic about the 2016 season, but Koetter simply can't take the Bucs even an inch backwards. The whole point of hiring him was to build on the good offense in place, and rework a defense that Lovie Smith drove into a sewer.
Remember, Jason Licht publicly talked playoffs in 2016, and Tampa Bay signed three win-now, big-money free agents on defense.  The offense was top-10 last year.
Koetter seems relaxed and equipped to handle the pressure, but most important, he's got the franchise quarterback in place. That fact alone doesn't buy time for any coach not based in Jacksonville.