"I Think Going Forward It's The Right Move"
April 20th, 2016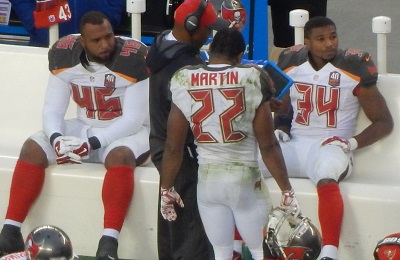 Doug Martin had an interesting take when asked about Lovie Smith getting fired yesterday.
Martin joined SiriusXM NFL Radio and was asked about Lovie's surprise ouster.
Everyone's favorite Muscle Hamster said it was "a shock" and called Lovie "a great coach."
"It was a move that guys upstairs know that was beneficial to the team," Martin said. "So, you know, whatever's beneficial to the team you got to go with. I think going forward it's the right move, and I can't wait to start the season with the new staff."
Asked by co-host Bruce Murray how Dirk Koetter will perform as a head coach, Martin dodged the question and said, "I'll have to get back to you when I ask him that." Martin added that the transition will be "smooth" and "will work for us."
While listening, Joe felt like Martin was uncomfortable talking about Lovie but also unwilling to shower his new head coach with love, like most players do at the start of a regime.
Martin seemed much more confident talking about his game what sets him apart from other NFL running backs.