Emmanuel Ogbah Talks Bucs "IQ" Test
April 5th, 2016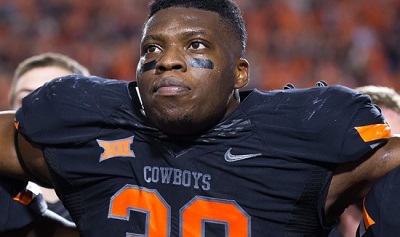 Gargantuan Oklahoma State defensive end Emmanuel Ogbah hopped on SiriusXM NFL Radio this afternoon, hours after leaving One Buc Palace.
Ogbah isn't the most chatty guy, though his handlers having him doing plenty of interviews.
Regarding his Bucs visit, Ogbah said it mostly was about "football IQ."
Yes, the Jason Licht regime is known for grinding prospects through football-related questions. Team Licht wants to know how deeply a guy knows the game and can learn the game — which usually reveals how much he loves the game. What a great way to separate the committed player from the overachieving athlete.
Ogbah also told NFL Radio co-hosts Mark Dominik and Bruce Murray that he played at 276 pounds last season and can go bigger.
At the NFL Scouting Combine, Ogbah was 6-4, 273 pounds and ran a 4.63 40 yard dash. That's a lot of meat hauling ass! Ogbah had 12 1/2 sacks last year, on the heels of 11 sacks in 2014, when he was named Big-12 defensive lineman of the year.
He added that playing soccer and basketball in Nigeria and in the U.S. — he immigrated at 9 years old — helped him with his football footwork. Ogbah said he discovered football in seventh grade.