"Echo Chamber Of Good Vibrations"
April 18th, 2016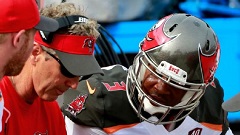 What's the guy captaining the Buccaneers' ship really like and what has he accomplished in just a year?
It's a tough answer to put into words.
Joe must tip a cap to Orlando Sentinel columnist George Diaz for his effort. Diaz penned a look at America's Quarterback, Jameis Winston, yesterday. Diaz lauds Jameis for overcoming negativity and proving he wasn't the guy many media, fans and haters expected.
Explaining Jameis is "an echo chamber of good vibrations," Diaz adds a quote from Dirk Koetter that illustrates Jameis is dialed into the big picture like very few 22-year-olds could be.
"Jameis is very perceptive about not only what he needs to get better, but what our offense and what our team needs to get better," new Bucs head coach Dirk Koetter told reporters recently. "That's one of the things as when you're around him more, he's mature way beyond his years on that sort of thing. The reason I've got a smile is that that's a good thing for the Bucs."
The maturity Jameis has shown likely will be the key cog in him taking a big leap forward during from rookie season. Jameis isn't perfect, but the tools — mentally and physically — are there, and his attitude is on point.
For example, Jameis would never perceive his rookie year to be one lacking enjoyment and satisfaction because he couldn't have enough fun.