Draft Countdown Open Thread
April 28th, 2016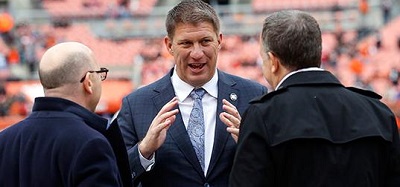 We're now less than hours from Roger Goodell walking to the podium and calling the Buccaneers' next great hope.
Joe's got the Jason Licht/Team Glazer photo here because, in fact, Team Glazer is part of the shotcalling team when it comes to a first-round pick, especially an early first-round pick.
Licht was seen on the One Buc Palace fields the past two days with Team Glazer for very long stretches.
Have your final say in the comments. Call your first-round pick. State your prayers. … And make plans to attend Joe's draft party.