Bucs Not "Front-Runners" For Josh Norman
April 21st, 2016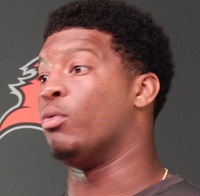 Dejection is setting in at JoeBucsFan.com world headquarters.
Per NFL Network super insider Ian Rapoport, the Buccaneers are not among the emerging "front-runners" for the services of free agent superstar cornerback Josh Norman.
Rapoport took to Twitter to deliver the gloom.
– The #49ers and the #Redskins have emerged as the front-runners for the services of free agent CB Josh Norman, source said.
Rapoport went on to Twitter that Norman will at Redskins headquarters tomorrow. But Rapoport also added many teams remain interested.
Joe hasn't lost all hope, but it's fading fast.
Somebody give America's Quarterback Norman's cell number.