Bucs "Have To Get" Josh Norman
April 21st, 2016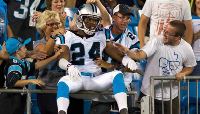 Since getting hired earlier this year to coach quarterbacks at the University of South Florida, popular national radio and television personality and former Bucs quarterback Shaun King has been pretty quiet on Twitter.
Well, the shockwave that blasted through NFL circles yesterday, when the Stinking Panthers pulled their franchise-tag contract offer off the table to All-Pro cornerback Josh Norman and set him immediately loose as an unrestricted free agent, awakened King. One of but three quarterbacks to lead the Bucs to the NFC title game, King ended his Twitter slumber.
In no uncertain terms, King said signing Norman is a must for the Bucs.
@realshaunking: Bucs have to get josh norman, right…
Boy, it sure would be nice.
Not only does signing Norman take away a major cog from the Stinking Panthers, it's two games a year you don't have to worry about Mike Evans losing his head and two games a year America's Quarterback, Pro Bowler Jameis Winston, doesn't have to worry about being hassled. It's also a major coup for a rebuilding defense.
Go ahead and draft Vernon Hargreaves at No. 9, but there is zero guarantee he develops into the corner that Norman is.
Go ahead and cross your fingers Johnthan Banks and Alterraun Verner can be rehabilitated from the PTSD they suffered under Coach My Scheme, but there is no such rehab needed for Norman.