Bucs Bag A Fullback In Sixth Round
April 30th, 2016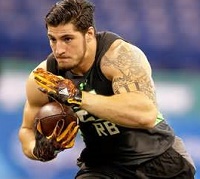 Tampa Bay entered the draft in need of a fullback. That's not just Joe talking. Dirk Koetter said the position was a definite position of need back at the NFL owners meetings.
And the Bucs got one, drafting Dan Vitale out of Northwestern this afternoon in Round 6.
From NFL.com:
Northwestern's "superback" is a one-of-a-kind position in college football, and Vitale's (vuh-TAL-ee) intelligence, size, physicality, and receiving skills were made to fill that role. He?s consistently been a part of the passing game during his career (102 receptions for over 1,000 yards and seven scores his first three years), and when the Wildcats want to focus on the run, Vitale can open up holes for running backs from an H-back or in-line spot. He capped off his career with a second-team All-Big Ten effort in 2015, leading the team with 33 receptions for 355 yards and a career-high four scores.
Speaking after the draft, Bucs general manager Jason Licht called Vitale a tough Chicago kid and praises his versatility. Licht noted his special teams prowess and that he played some tight end in college.