Another Twist In The Glennon Trade Pretzel
April 13th, 2016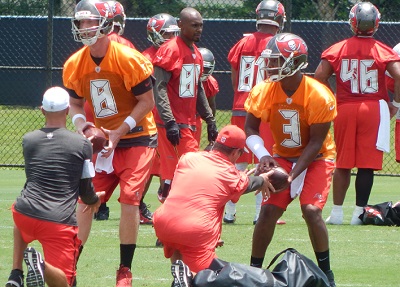 Will the Bucs execute a draft-day trade for Mike Glennon in 15, 16 or 17 short days, or will they be stubborn and cling to a him like a toddler cradling his last sip of apple juice?
This question has been burning the ears and minds of fans and media all across the nation.
Former NFL quarterback Jim Miller, highly connected in NFL circles and co-host of Movin' The Chains on SiriusXM NFL Radio, is very intrigued by the Bucs' No. 3 quarterback, Ryan Griffin. Speaking on air last night, Miller said he knows "a lot of people" who like Griffin.
Miller got on Miller's bandwagon during a discussion on trading Glennon with co-host and former Jets personnel chief and linebackers coach Pat Kirwan. For those fans lacking a clue about Griffin, he was snatched by the Bucs last season after he was a final-roster cut of the Saints, where he spent the 2013 and 2014 seasons.
That got Joe wondering what the Bucs might be able to get for Griffin?
Again, Miller has major league contacts and attends all major NFL events, from the Senior Bowl to the NFL Owners Meetings.
Miller went on to say he would cough up a third-round pick for Glennon, if he ran a team desiring Glennon's services. Kirwan didn't argue that, saying Glennon is a "big guy with a nice release who has escape skills."
One thing that is certain, the Bucs have no need for three quarterbacks, especially if options No. 2 and No. 3 have trade value.