Another Groin Kick To A Glennon Trade
April 18th, 2016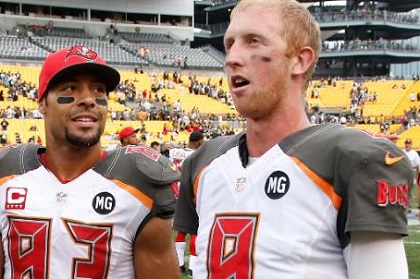 It was bad enough when the Rams dealt for the No. 1 overall draft pick last week, leaving successful young quarterback Nick Foles caught in the wash and effectively placed on the growing third-rate QB market.
Today, another name enters the mix, one that should cut further the street value of Mike Glennon.
Word broke this morning that the Houston Texans will cut Brian Hoyer, who led his team to a division title last season, after winning seven games in dysfunctional Cleveland in 2014.
At 30 years old with low mileage, Hoyer is young by quarterback standards, and he's got a winning record (15-11) and has proven to have thick skin.
If you're a general manager desperate to keep a job and win games immediately with a third-rate quarterback, would you prefer Hoyer or Mike Glennon? Joe would take Hoyer.
It's widely known the Bucs have considered trade offers for Glennon going on three offseasons. General manager Jason Licht won't offer specifics and, to date, he won't pull the trigger.
Joe wants a deal done. Glennon has one year remaining on his rookie contract and is very likely to walk. The Bucs should get something for him because there is zero guarantee a compensatory draft pick would be forthcoming.
But what's Glennon's market value now? Peanuts. Maybe Licht can find a fourth-round pick.
With each passing day, it seems Licht might be more apt to keep Glennon and hope the 2017 market breaks poorly for Glennon, so the Bucs can bring him back as an expensive backup.