A Welcome Storm For Mike James
April 26th, 2016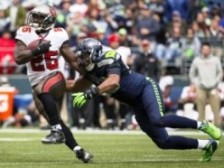 The Bucs signed a running back yesterday, and Joe sees the move as a great sign for forgotten ball carrier Mike James, Tampa Bay's sixth-round pick in 2013.
The new guy is Storm Johnson, who was out of the NFL last year. He was a 2014 seventh-round pick of the Jaguars from the University of Central Florida. Johnson played behind James and Lamar Miller with the Miami Hurricanes in 2010, before transferring out.
Johnson is what Joe would call a camp-meat signing. The Bucs could have retained Bobby Rainey inexpensively but passed. They could have snatched a veteran running back to compete for the No. 3-RB role, but they didn't.
Perhaps Jason Licht and Dirk Koetter are counting on James to be the guy who ran for 295 yards on just 60 carries as a rookie in 2013, and the guy who added 10 receptions that season.
James quietly sat on the Bucs' practice squad for most of last year, and the Bucs pounced on him quickly after the season when all practice squad guys immediately become free agents.
When James was drafted by the Schiano-Dominik regime, he was billed as the next Earnest Graham, a selfless, do-it-all-including-special-teams player.
For now, (who really knows where the Bucs go in the draft?) James is well positioned to get a lot of preseason work and earn the No. 3 running back job. Joe's a big fan of James and is pulling for him.