A New Honor For Jameis?
April 29th, 2016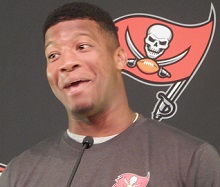 Joe's taking a break from wall-to-wall draft coverage to bring you an important observation.
Tonight's NFL Network draft broadcast is littered promos for the Top-100 Players Of 2016, as voted by the NFL players themselves. And the commercials include America's Quarterback, Jameis Winston. Nothing actually states Jameis earned the honor, but that's the implication.
The annual series kicks off Wednesday night, when Nos. 91 through 100 will be unveiled.
After his stunning 2010 season, Josh Freeman was voted the 83rd best player in the NFL. Mike Williams, then a rookie, was 80th.
No, it's not silly to think Jameis has pulled down another honor delivered by his peers. There's rampant leaguewide respect for his game and approach.