Saints Free Agency
March 14th, 2016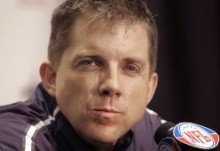 This week, Joe will look at free-agency happenings in the NFC South.
Unlike the Bucs, the 7-9 Saints finished last season winning three of four games, including embarrassing the 6-6 Bucs at the Stadium on Dale Mabry Highway on Dec. 13. Remember that game, when many Bucs players said they "came out flat?"
The Saints' arrow is looking up after that strong finish, except they were strapped this offseason by their usual salary cap limitations and appear to have changed their philosophy.
No team allowed more points than the Saints in 2015, yet they didn't sign a significant free agent on defense.
Imagine if the Bucs' front office pulled a stunt like that? There'd be a riot on Dale Mabry!
The Saints big action in free agency? They re-signed a few of their own second-tier guys, including backup QB Luke McCown, plus former Colts tight end Coby Fleener was inked to replace tight end Ben Watson. who left for Baltimore. Watson shocked the NFL last season with a whopping 74 catches for 825 yards and six touchdowns.
What's intriguing is the Saints were in the mix for new Bucs guard J.R. Sweezy, per NOLA.com.
Last year at the NFL Owners Meetings in Arizona, Joe sat with head coach Sean Payton when he discussed how guards and the center — the interior pocket — are more important to him than good left tackle play. It was why he was willing to trade Jimmy Graham to Seattle and pick up a draft pick and a starting center, Max Unger.
Buzz out of New Orleans is that the Saints are still looking for a guard, but fans are on edge in fear that the Saints will draft one early and won't sufficiently address their defense.