Programming Note And FREE BEER Alert
March 20th, 2016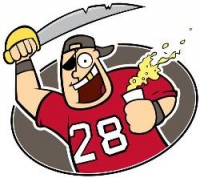 Before the programming note, Joe is issuing a Save The Date for a free beer session.
Celebrate the excitement of the NFL Draft opening night, Thursday, April 28, with JoeBucsFan.com and friends. Yes, Joe will be there.
Here's the deal. Joe can't announce the location name yet because this popular and fantastic Clearwater spot on U.S. Highway 19 expects to change its name very soon. And Joe doesn't want to confuse anyone.
But save the date! Joe will host a draft party with great giveaways, a pick-the-pick contest and FREE BEER before the draft kicks off. That's right — 45 minutes of FREE BEER.
Details are coming soon, but save the date. For the roughly 70 who attended the JoeBucsFan draft party last year, this year definitely will kick it up a notch.
On the programming front, prepare for a busy week.
Today got off to a great start, but there will be plenty coming from the NFL owners meetings through the week. Joe will be there talking to Dirk Koetter, Team Glazer, Jason Licht and all sorts of other NFL types about all things Bucs. And Joe will be back in time for the "JoeBucsFan.com Hour" at 5 p.m. Wednesday, when Joe slugs it out with The Big Dog, Steve Duemig, of WDAE-AM 620.